10/2019 Notice: B. St.Pierre Studio has big changes coming!
The biggest being that we'll be closing our Merrimack Studio
and photographing outdoor or on location only.
We're going in a new direction with the closing of the studio space, and while we figure out exactly what that looks like in continuing to offer our copywriting and photography services,
Bonnie St.Pierre will be available on a limited basis.
Our phone number is changing too, and to keep communications open for legitimate inquiries only (no nuisance calls), we ask that you contact us through the contact form on this website. Once it's established that you are not a robot or sales person, we will share our phone number with you.
Your story, Your loves, Your life... Images with heart.
When you want the art on your walls to SAY something, to you, and to future generations.
B. St.Pierre Studio is on a mission to create images of joy, love & purpose for everyone;
one person, couple, family, or business, at a time.
Our photography is a little different from what other studios offer. It is planned with great care to remain a pleasure for you to have adorning your walls for decades, and most often tells stories in the images... of families, couples, and individuals.
Our services are available solely for those who want to participate in creating something truly meaningful.
Families wanting to show their pride in, and celebrate, their most treasured relationships will enjoy how Bonnie St.Pierre's empathy and experience in nursing and caregiving makes her sessions a wonderful experience for everyone. This is especially true for those living with the emotional and physical challenges of disease, disabilities, special needs, aging parents and dementia, plus blended and Military Families. Life can be hard. What's true for today might be totally changed tomorrow. It is important to recognize and focus on the blessings, even in the midst of our struggles. Choosing to have a professional photo session is to take positive action on that gratitude, and brings guaranteed happiness, not yet another challenge, when it is with the right professional. Our photo session can become one of those great moments of your life, while serving to capture what it is you want to celebrate. Bonnie's photography sessions are life affirming experiences.
For our business clients, images with heart applies to you too! This means collaborating to create photographs that illustrate your services and culture. Consider us for providing the writing of your message with our professional content and copywriting services too, in a voice that is sure to resonate with, and promote a response from, your perfect clients.

For our portrait clients, unlike traditional portraiture, we produce images that are described as more like paintings in appearance and the story that they tell the viewer. Subjects are not looking towards the camera at all in some cases, and we use our lighting and composition skills for pleasing effect and to bring attention to the most important parts of the scene. From fantasy to legacy, the focus is on whatever it is you are passionate about, those small everyday moments and interactions together, your uniquely-you portraits. They are designed for years of enjoyment, into the next generations.
We all love having art decorate our walls, why not have the subjects be your own loved ones, or you, at a significant time in your life that you want to hold near into the future? Time is going to move past today much more quickly than we'd like it to, but some parts of our lives can live on forever in one of Bonnie's art pieces.
We can come to your home, your business, or you can enjoy the benefits of our truly amazing photo studio in Merrimack, NH.

For a limited number of clients each year, Bonnie St.Pierre also crafts a signature printed & bound, custom-artworked StoryBook, where the photos from their multi-set studio session illustrate the story, written specifically for them, in an extraordinary way. StoryBooks are sometimes whimsical or fantasy themed, but are also often multi-generational stories, capturing the love shared, celebrating this moment in time for the family. It is this one-of-a-kind treasured heirloom product that earned her the title StoryBook Photographer from WMUR NH Chronicle. See this tv segment, where she is featured creating one family's StoryBook.
Looking for a unique gift for your daughter or son's family, a special gift unmatched by anything else you could ever give to them? Something they will be enjoying long past, years past, any gadget or toy you might buy for them today? Ask if Bonnie can fit creating a StoryBook into her schedule for your family this year.
Be sure to check out our news, tips and announcements further down the page!
~
Want to know more or ready to get started? Click on one of the two photos just below.
We serve two different clients:
Businesses, click the Copywriting titled photo. Families, Couples and Individuals, click on the Storytelling Portraiture.
See what's happening at B. St.Pierre Studio!
Events & Happenings

Look here for Events, and our Special Short Session Photo Days, which can be booked right online!
To learn more, Click Here
In The News
See Bonnie St.Pierre and her signature StoryBooks,
featured in a WMUR-tv NH Chronicle Segment and local journals! Click on the video to play.
A peek at our amazing Merrimack NH Photography Studio!
See notifications of special photo days, 'like' us on FaceBook!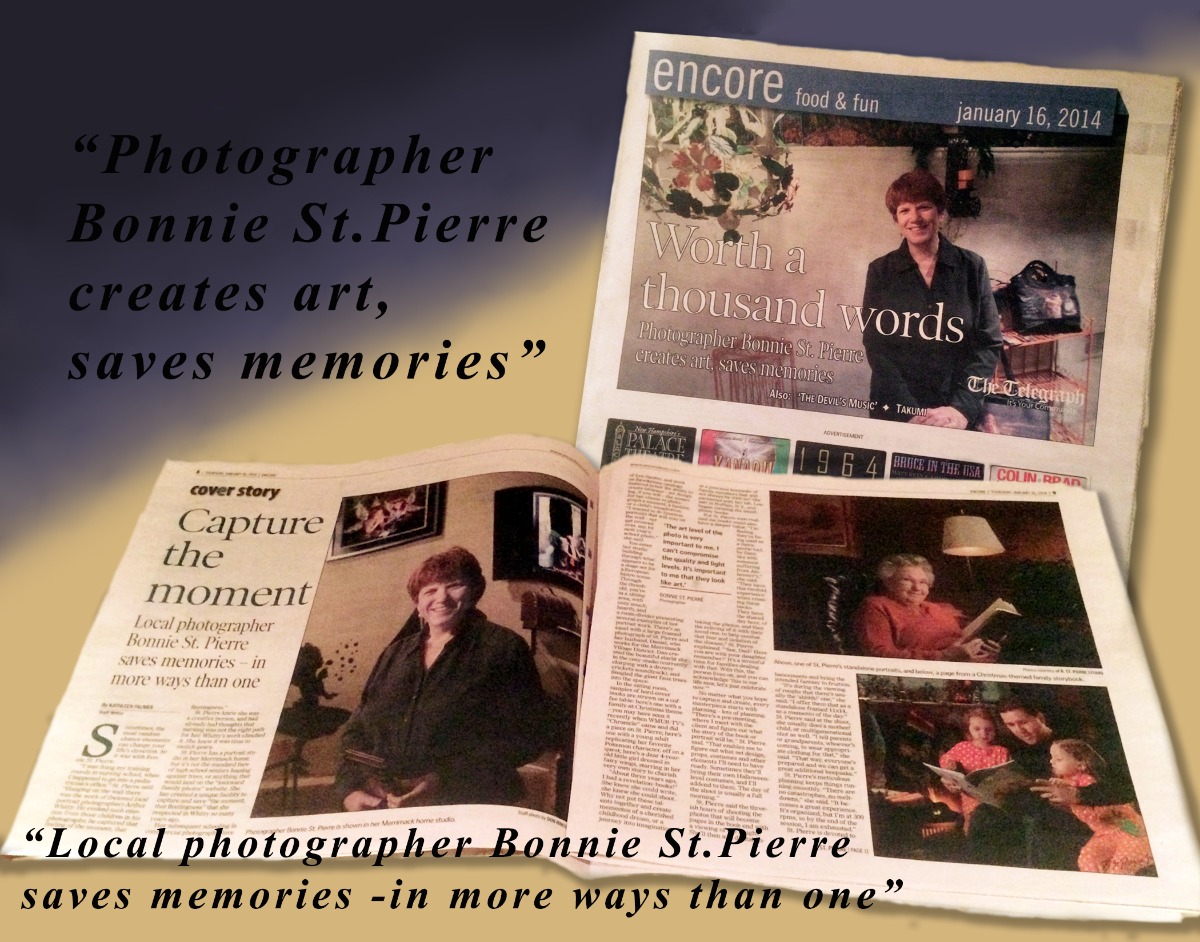 Nashua Telegraph's 'Encore' feature on us!
No two days in the Studio are exactly alike!


Click here to check out this book, and other books by Bonnie St.Pierre!
'One Per Day' Portrait Campaign- Our mission to create a lasting moment of joy for families living with illness & disability or and military deployment of a parent . Click here to Learn More or Donate.
See the Nashua Telegraph article about our fundraiser! 'One Per Day' gives families lasting memories (If you can't read the whole article, click here and scroll down to 12/2015)